Mmmhmm. I love science fiction. I haven't read much of the genre, and I'm not one of those Hardcore! readers, so I'm not totally gone off that end yet. But I must say, I've read my fair share of parallel dimensions, alien romances, and planets orbiting a few suns. I've watched spoofs and movies and I've decided to dedicate a place in my heart to Star Trek. And Star Wars.
But science fiction is such a guy thing. All the books I've read were written by guys. And they do include some pretty hot/seductive/smart/all of these characteristics alien chicks inside. I've not seen much done for the guys, though it may be just because I haven't read so many other books yet.
Where is the justice, man? Where is it?
Though casting Zachary Quinto as Spock was just brilliant and spiffy. Thank you, whoever it was who set off this chain of events. May the Mothership bless your fortunate soul.
I went googling the other day for retrofuturistic pictures (sci-fi from the 1950s 1960s, sci-fi from the past) and found some really nice ones. But,most of the human pin-up ones were of dangerous sci-fi girls. Here you go:
Disclaimer: I do not own any of these pictures.
There is something fatalistic about the future of humankind that draws me to this picture. Notice how all the astronauts are men. Guess this says something about gender equalities back then.
Pretty and incarcerated sci-fi girl.
There was even a "Sexy Robot" series. Click here to go to the page.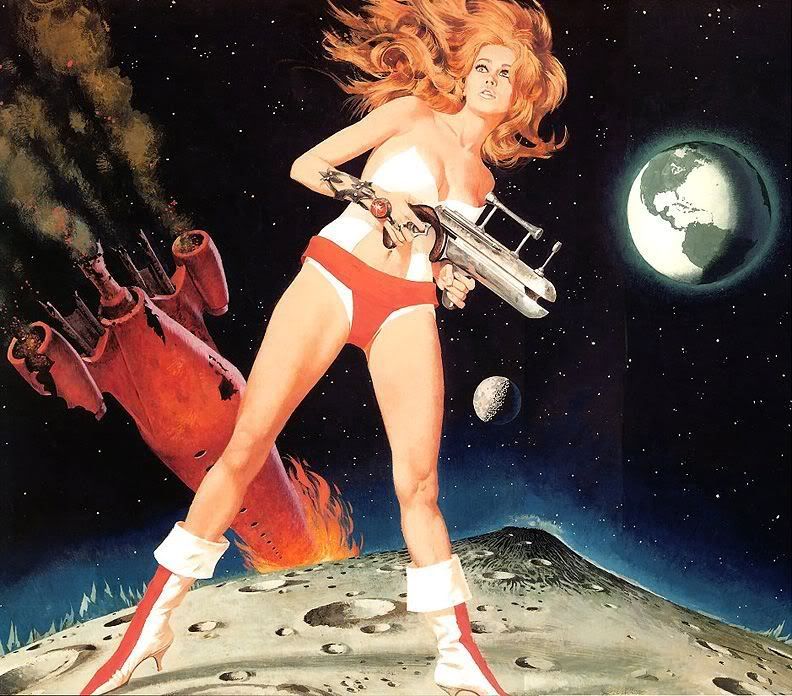 I'm sorry, but sometimes I think sci-fi from the past was like the Playboy for geeks.
I like big futuristic cites and I cannot lie. All you other people can't deny.
So readers, if you see any dangerous-looking sci-fi guys whom I can have a field day staring at, don't hesitate to paste the link into the Cbox on the left!
Though with all the TV shows and movies popping up, I think it's just a question of spending a whole day watching TV to find some. Lazy butts here I come!